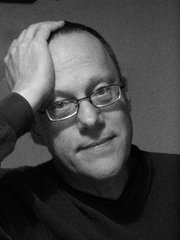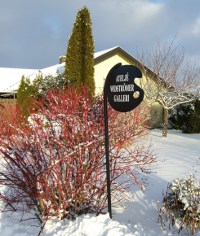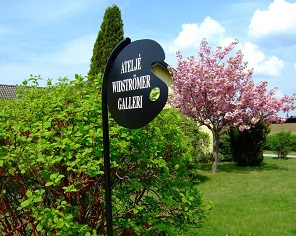 1960's
Caricatures
Modernistic experiments in oil
Ink drawings (often improvised)
Automatic writings (poetry)
University studies: the history of literature, art and culture; the Nordic languages, English
Starts collecting books of art
From now on travels to different art museums in Europe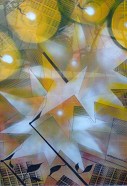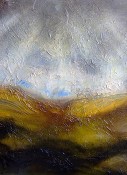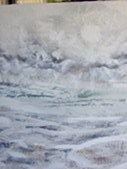 1970's
Realistic and romantic landscapes in oil on board and canvas, a style soon abandoned
Modernism: from expressive cubism to cool concrete art
Experiments in lacquer, oil etc on paper, board, canvas
Ink drawings, from improvisations to calculated geometries; also landscape studies
Pop and hippie inspired poster art on paper, mainly ink and lacquer
Teacher's exam, moves to Falkenberg
Corresponding themes in art and poetry (unpublished manuscripts)
University studies in history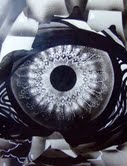 1980's
Studies in religion, iconography, art and poetry
Book of poetry with drawings in ink published
A poster for Amnesty printed
Paintings and drawings with hard edge geometries; an .ism, emblematism invented; notable are the canvases called Interiors, showing the months and the seasons of the year as compositions consisting of squares with four triangles inscribed, some exhibited in 1989
Colourful big size chalk drawings on paper; some in black chalk only
Solo exhibitions at home and abroad; first large scale exhibition in 1980
Group exhibitions
Writes cultural articles for the newspapers (1984-1991)
More poetry writing; recitement at a poetry festival; a few poems published in the newspapers
A large series of "emblematic" or abstract paintings in oil (and/or acrylic) on paper (often inspired by poetry and music)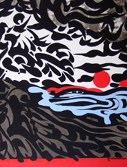 1990's
Group exhibitions in Sweden, England and Finland
Solo exhibitions in Halland and Stockholm
Expressive big size black chalk drawings on paper and some pencil
Calligraphy like acrylic paintings on canvas in black, red, white and grey; a large number exhibited at a solo exhibition in Falkenberg called The Sea
Landscape like compositions in acrylic on canvas inspired by the movements of the wind in the grass and the waves of the sea, defined as inner impressionism


2000's
Greyish miniature paintings in acrylic on canvas with themes from poetry and music Inner impressionism from the 90's develops into a large series of acrylic paintings (big size) called Musical moments and Transcendental studies
Joins Konstliv Halland in 2001 with county wide exhibitions once a year
Returns to the emblematism of the 80's in a series of acrylic paintings on canvas
Personal website
Works also shown on English, German and American art sites
Group exhibitions



2010's
The artist´s studio gallery is opened to the public
A series of paintings, "Arabesques", inspired by oriental art, music and poetry exhibited
Poetry is published on poeter.se
Group exhibitions
Poetry published in anthologies
Fred Andersson, art historian and adjunct professor at Åbo Academy and University (Finland), publishes a learned book about the life and art of the artist, called "Jan Widströmer - av inre tvång och kärlek till konsten", with an essay on the poetry of the artist by Niklas Schiöler, poetry expert and former adjunct professor at Lund University (Sweden). Summary in English. Publisher: Palmkrons (Lund).
2020's
Hallands konstmuseum, Halmstad. Jury judged spring exhibition